Kasuri methi or dried fenugreek leaves from Modern Agro are a way to a healthier life. They don't just add flavour and taste to your food but immunity to your overall health and well-being as well. Do you know that fenugreek is believed to have come into existence as early as 4000 BC? It is also believed that in first century AD, the Romans used to flavour their wines with this amazing spice. But these facts are not the only aspect that make this condiment so incredible. There are medicinal properties of kasuri methi from Modern Agro that make it a superb addition to your kitchen and your life.
Have A Look At The Following 6 Awesome Ways Kasuri Methi Adds Flavour & Health To Your Life

1. Do You Know That Kasuri Methi From Modern Agro Helps Reduce Bad Cholesterol?

It has a very positive impact on your blood lipid levels. This herb could be extremely beneficial to anyone who has severe problems of increased triglycerides and LDL levels. You can go about putting close to 10 grams of kasuri methi in lukewarm water and leaving it overnight. Drain the water next morning and drink it as it is. See the monumental difference in your health in about less than a month.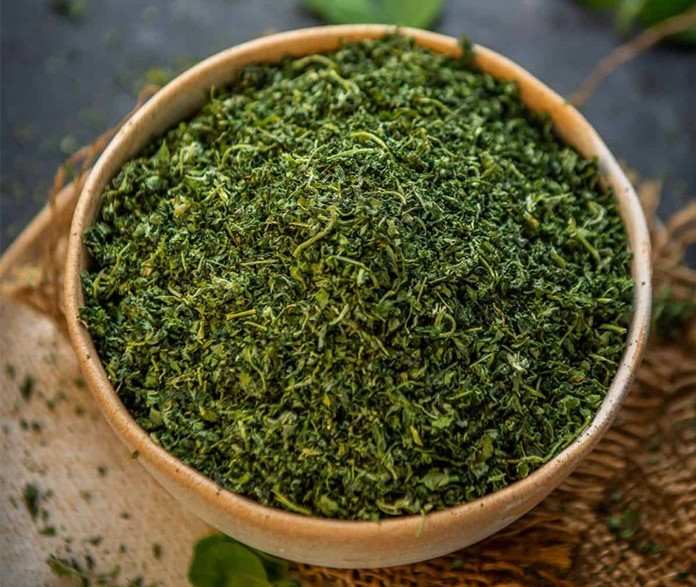 2. Preventing Bowel Problems – Dried Fenugreek Leaves To The Rescue

Kasoori methi from Modern Agro available at Kudrat Kart can help you get long lasting and even permanent relief from all your bowl related problems. You just have to be regular with its consumption. It can help you fight dyspepsia and improve your overall liver function as well. If you have any gastric problems or some serious intestinal issues, it can alleviate all those symptoms too. It is also very much effective if you suffer from constipation and bloating every now and then.
3. Fight Dandruff With Kasuri Methi Available At Kudrat Kart

It does not just reduce your dandruff problem but is also antifungal and has moisturizing properties as well. This reduces the dryness in your scalp and if you are using a mixture of curd and fenugreek paste, it will make your hair more lustrous and shinier than ever. Also, you can boil a little bit of dried fenugreek leaves in about 50ml of coconut oil and keep it separately in an airtight container to be used periodically. Massage the oil into your scalp before you head for a bath. To this twice a week and see how thick and shiny your hair becomes.
Haven't Gotten Enough Of Kasuri Methi Yet? We Also Have 3 Interesting Recipes That You Can Make With It
4. Kasoori Methi Besan Chilla

This is going to be one of the quickest and most practical snacks to make at home. Make sure that you source high-quality besan which is a great source of protein. The spices that you are going to need include red chilli powder, turmeric, black pepper, a bit of black salt for a little tanginess. It is worth noting that Modern agro provide all these spices and these can be bought from KudratKart.com. Coming back to ingredients add salt to taste and also a little bit of ginger-garlic paste if you want. Do not forget to add a little fresh coriander into the mix and how can we forget the main ingredient, kasuri methi from Modern Agro. This is all going to go into a batter of besan and water. You can also use whey or buttermilk in the place of water to make it more nutritious. Give it a little bit of twist with a little quantity of moong dal powder if you want. Once you have a smooth and almost runny batter, spread it over a hot non-stick tawa / pan after greasing it well with a teaspoon of olive oil. Cook it till it is brown from both the sides. Serve it piping hot with a garnishing of hung curd and fresh methi leaves on top.
5. Baby Potatoes / Hash Browns

Have you ever tried making baby potatoes / hash browns with kasuri methi? This is one of the most innovative dishes because unlike what we usually do in our kitchens which is putting fresh methi into the hash browns, we are going to use the dried form of it which means more flavour and less chewiness. You will get the full taste of potato but without any compromises with the fenugreek flavour. You can begin by boiling the potatoes and mashing them with kasuri methi and a little bit of onion and jeera. You can be a little more generous with the methi powder if you want and don't forget to add a little bit of Modern Agro red chilli powder, dry mango powder, a bit of ajwain, coriander powder, and you are good to go. Roll and shape the mashed potato mixture into the desired shape and you are ready to stir fry them. Cook them until the baby potatoes are golden brown from both the sides. You can serve them with sev puri and tomato chaat or with tamarind and pudina chutney.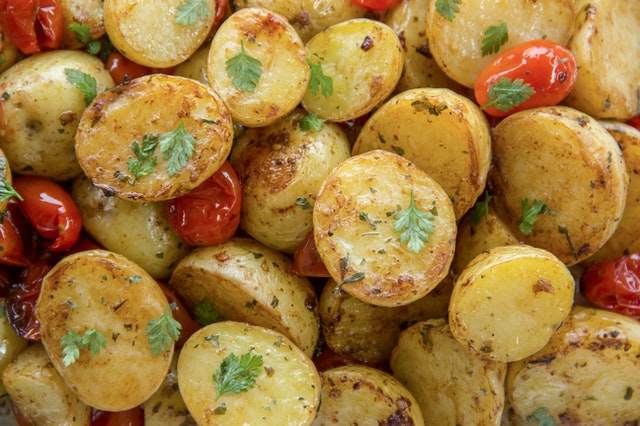 6. Kasuri Methi Paratha

Again, we are counting on the warm and strong flavour of kasuri methi from Kudrat Kart to give this paratha a unique twist. It is ideal for everyone who is bored of the chewiness and leafiness as of fresh methi. You just can't go wrong with kasuri methi when maintaining the smooth texture of your paratha. Flatten the dough to the desired thickness but make sure that it is a little thinner from the edges. Begin by kneading a bit of jeera onto the dough along with a generous filling of your favourite vegetables or paneer. You can add kasoori methi on top with fresh coriander to give it that extra kick. Now bring the edges of the paratha to the centre to make it into a firm ball. Grab your rolling pin and flatten it out to the desired size and thickness. Slap it on to the heated tawa and cook it till it is golden brown from both sides. Add a dollop of butter at the end and you are in delicious heaven.
This was an interesting way to close this post. Remember, the way to a healthy life is only through a healthy diet and one of the best ways to ensure that is by investing in completely natural, authentic and hygienic products such as kasoori methi from Modern Agro available at Kudrat Kart.