Pickle tingles your taste buds and It makes your mouth watery. It is a side dish that goes with every meal. But, when it is lemon pickle, the list of requirements and benefits keeps on increasing. Not only the taste and flavour, but it also helps in improving heart health and bones.
It makes your mouth drool when you hear khatta meetha nimbu ka achar. As the lid of the container opens, the tangy smell of the pickle fills the entire kitchen. It is not a dish but a permanent side dish that everyone likes to eat every day.
But here is a thing that most of us never thought. Unlike other sides like sauces, lemon pickle has health benefits. Can you guess the vitamins, minerals, and other nutrients that you intake with your lemon achar? Well, the number is enough that you will make frequent excuses to eat the pickle with every meal.
Let's explore the benefits of lemon pickle,
1. A vast number of nutrients – Lemons are anti-oxidants in nature. When turned into a pickle, you preserve them in oil, water, sodium, and sugar, which add ample nutrients to the plate. It is a good source for complex B vitamins, which help the body to replenish itself externally.
2. Controls blood pressure – Lemon pickle is full of minerals like copper, potassium, iron, and calcium that help to regulate the blood flow and blood pressure. Why wait? Search for sweet lemon pickle online.
3. Good for the heart – Pickles have almost zero fat and cholesterol. Thus, there is no brainer that lemon pickle adds health benefits to your heart, aside from controlling the blood flow.
4. Natural preservative – Lemon pickle is a natural preservative that helps in digestive problems. Enzymes present in lemon trick the liver to produce bile. Thus, helping in the process of detoxification. Not only it soothes digestion but, also helps in dissolving kidney stones. At Kudrat Kart, we make it with all natural ingredients – Black Salt, Red Chilli Powder, and Garam Masala Powder – and no added preservatives.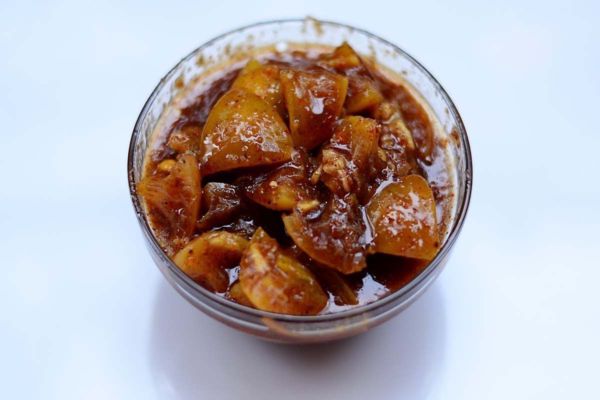 5. Improves the health of bones and teeth – Lemons have vitamin C and A, calcium, potassium, magnesium, etc. Therefore, it is good for bones and teeth. Pickle can help in improving bone-related diseases like rheumatoid arthritis, inflammatory polyarthritis, and osteoporosis.
If you are impressed with the benefits and your tongue is craving for some pickle, visit Kudrat Kart and buy the lemon pickle.